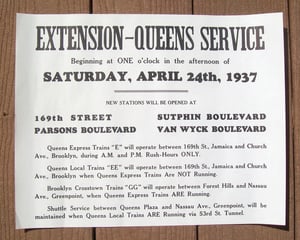 $

15.00
This is a Reproduction of a notice from 1937 that would have been found across the IND network as well as hanging in the trains.
The Queens Boulevard Subway of the IND originally opened to Roosevelt Avenue. This was the last piece of subway to open before World War II. The terminal became 169th Street in Jamaica.
It measures 14.5 inches wide and 11 inches tall.
This notice is dated April 24, 1937. It is a reproduction.
It is printed on regular stock paper.
If you have any questions, please call us at (973) 750-8610, or fill out the contact form. We will be more than happy to answer any and all questions you may have!
This sign would be great for bar or restaurant decoration, dorm room, den, etc. Also makes that one of a kind gift - you can't find this at Sears or Target. Have fun touring old New York. Own a piece of New York history!